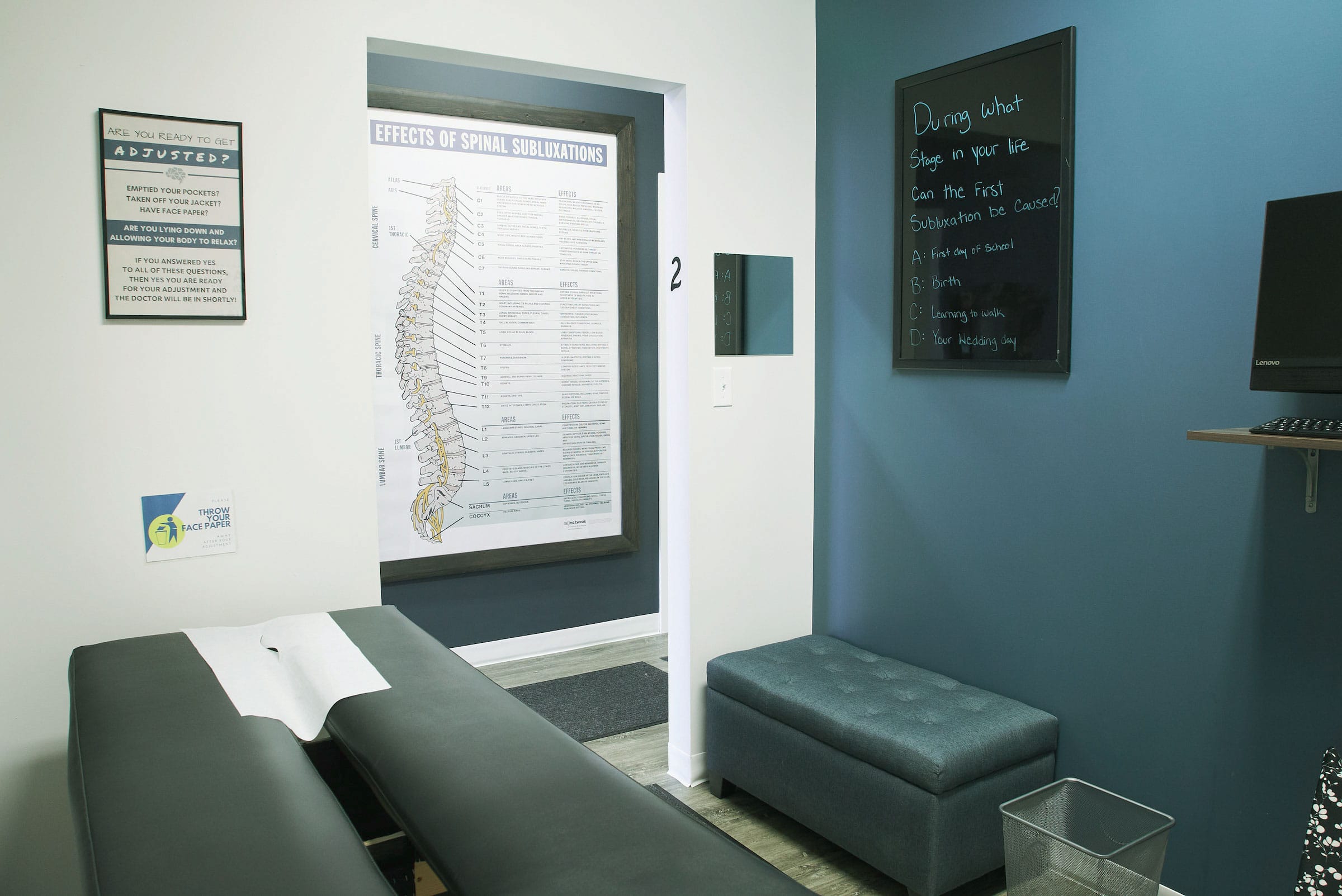 Frequently Asked Questions
---
My First Visit FAQ's
What happens on the first visit?
The first visit in our office will be a consultation and an initial assessment.
We will first give you a quick tour of our office, so you know where everything is. Our doctors will review your health history and discuss any health concerns that you may have during the consultation. We will then perform an in-depth evaluation which includes the use of state-of-the-art chiropractic technology to see how well you are functioning. Should any x-rays be necessary we will take them in our digital x-ray suite. Lastly, we will schedule you for your orientation visit, which is where, after careful analysis of your assessments, we help you understand your findings, your recommendations for care, and what to expect moving forward.
How long is my initial visit?
Your first visit usually takes about an hour or so, depending on how many questions you may have. Please make sure to fill out your paperwork ahead of time so we can make the most out of our time together. If you need to fill out the paperwork in our office, we would like you to arrive at least 15 minutes early to complete the paperwork. Please also bring any health insurance cards and related information with you.
What do I wear on my first visit?
It is best to wear comfortable clothing that allows us to evaluate any problems that you may have. We do ask that you avoid wearing a dress. We will also provide you with a gown to see and assess your spine.
Will I need x-rays on my first visit?
Every person and case is different. If x-rays are needed, we have a digital x-ray suite in our office to take any necessary x-rays. X-rays give us the opportunity to reveal the true condition and alignment of your spine eliminating any guesswork.
---
General FAQ's
Where is Adapt Chiropractic Located?
Our office is located on the west side of Lethbridge. If you follow Whoop-Up Drive west, you will see the Crossings Shopping Complex on the right. We share the same parking lot with No-Frills, Original Joes, Mama La, Freshii, Coulee Vet Clinic, and Crossings Dental. 
---
Payment FAQ's
Do you offer direct billing?
Yes, we offer direct billing to many different extended health providers.
Which providers do you work with?
-Alberta Blue Cross
-Canada Life (formerly Great-West Life)
-Manulife
-Sunlife
-Green Shield
-Medavie Blue Cross
-RCMP
-Veterans Affairs
-Equitable Life
-The Co-Operators
-Chamber of Commerce
-The Johnson Group
-Industrial Alliance
-Group Source
-Automobile insurance claims
-and more.
How do I know if I have coverage?
Please check your health plan to determine the coverage available to you for chiropractic care. Each plan is unique to how much coverage you have and whether it is direct billable.
---
Chiropractic FAQ's
What can chiropractic help with?
We see a variety of people with many different health concerns ranging from new injuries to  chronic conditions to individuals and families seeking wellness care. Some of the more common concerns we see are: back pain, neck pain, headaches, migraines, other conditions of the spine and extremities, whiplash injuries, repetitive strain injuries or joint conditions, arthritis, work or sport injuries, lifestyle and ergonomic modifications and general health and well being.
If you are unsure if we can help you with your specific concern, it is best to schedule a consultation so that we can discuss your particular case.
Who can see a chiropractor? 
We see individuals of all ages, ranging from babies and children to pregnant women, athletes, seniors and everyone in between.  It is never too early or too late to see a chiropractor. Our doctors are trained to determine if you need care, what type of care, and to cater care to your individual needs.
How often should I see a chiropractor?
This is different for every person. Care for each person is determined based upon your individual needs, health goals, and the findings from your initial assessment. We always perform an in-depth evaluation in order to provide a customized chiropractic care plan for you.
What if I've been in a car accident/am involved in a motor vehicle accident claim?
Chiropractic care following an accident is very important, and it is best to schedule your visit as soon as possible (within 10 days of the collision). Please make sure to let our office know prior to your arrival that you have been in an accident. There is specific paperwork that must be completed in addition to our regular new practice member paperwork to proceed with a motor vehicle accident claim.  We can direct you to this paperwork if your insurance company has not already given it to you. We will also require other information such as the claim number, the insurance company, and the contact information for your claims representative. Our doctors will complete an assessment to determine the type of injury and category of coverage necessary for your injury. Chiropractic care for these claims is billed directly to your insurance company.
If you have any additional questions about chiropractics, treatments, or our clinic, please reach out.