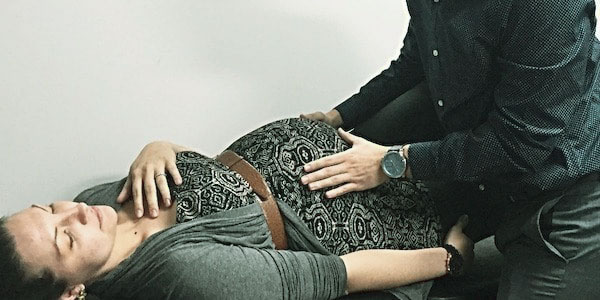 Pregnancy & Chiropractic
Prenatal Chiropractic During Pregnancy
Our goal is to provide you an additional form of support during your pregnancy.

Prenatal chiropractic offers the opportunity for a more comfortable pregnancy.
During pregnancy, as your baby grows and your body changes, there is added stress to the pelvis, lower back, and their associated muscles, ligaments, and nerves. This stress can have abnormal effects on the biomechanics of your body. With gentle adjustments to your body, we aim to help you feel more comfortable during your pregnancy.
Prenatal Chiropractic & The Webster Technique
The body experiences changes very quickly throughout pregnancy. These can include changes in posture, weight gain, and changes in hormone production. There is evidence that one hormone in particular, called Relaxin, can help relax ligaments and joints, especially of the pelvis. These changes can contribute to pain and discomfort.
In our office, we have specially designed chiropractic pregnancy pillows that are designed to allow mom to lay comfortably face down on the table. We have different sized pillows for the first, second, and third trimesters of pregnancy. Many women comment and love being able to lay down on their belly safely and comfortably!
The adjustment itself is very gentle and very specific. There is no twisting, cracking, or popping in our office. Dr. Kenzie and Dr. Mike will put together a chiropractic care plan specific to your needs and where you are at during your pregnancy. We also love taking care of new moms after their pregnancy to support all of the changes that occur during and after labour as well. Prenatal chiropractic care is a huge passion of ours and we would love to take care and be a resource for you and your family.
Prenatal Chiropractic FAQ
What to Expect at Your Chiropractic Visit


Do you offer direct billing?
Yes, we offer direct billing to many different extended health providers. These include providers such as Alberta Blue Cross, Canada Life (formerly Great-West Life), Manulife, Sunlife, Green Shield, Medavie Blue Cross, RCMP, Veterans Affairs, Equitable Life, The Co-Operators, Chamber of Commerce, The Johnson Group, Industrial Alliance, Group Source, automobile insurance claims, and more.
Please check your health plan to determine the coverage available to you for chiropractic care. Each plan is unique to how much coverage you have and whether it is direct billable.
What happens on the first visit?
The first visit in our office will be a consultation and an initial assessment. We will first give you a quick tour of our office, so you know where everything is. Our doctors will review your health history and discuss any health concerns that you may have during the consultation. We will then perform an in-depth evaluation which includes the use of state-of-the-art chiropractic technology to see how well you are functioning. Should any x-rays be necessary we will take them in our digital x-ray suite. Lastly, we will schedule you for your orientation visit, which is where, after careful analysis of your assessments, we help you understand your findings, your recommendations for care, and what to expect moving forward.
How long is my initial visit?
Your first visit usually takes about an hour or so, depending on how many questions you may have. Please make sure to fill out your paperwork ahead of time so we can make the most out of our time together.
Where is Adapt Chiropractic Located?
Our office is located on the west side of Lethbridge. If you follow Whoop-Up Drive west, you will see the Crossings Shopping Complex on the right. We share the same parking lot with No-Frills, Original Joes, Mama La, Freshii, Coulee Vet Clinic, and Crossings Dental. 
Ready to Improve Your Spine Health?
Get Started Today